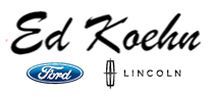 Here at
Ed Koehn Ford
we want to help get your credit back on track so you are able to purchase a car. We know that life can throw some difficult hurdles in the way at the worst possible times. In those times we have to make sacrifices to take care of what is important in life. Those choices can sometimes lead to dropping your credit score. This doesn't mean we are going to treat you any different then the person with perfect credit. Instead we want to help you more by offering affordable, quick and easy resources to help get your credit back on track and attractive to a conventional bank rather then a "buy here pay here" bank that will never get you out of that buying cycle.
Finn Law Group has helped us with many customers through their Lighthouse Credit Repair Program. This is what they would like to say to you:
Let us help you with your credit!
Credit repair is possible! We've helped people get bankruptcies, judgments, collections, late payments, charge offs, liens and more removed from their credit reports permanently! We dispute information directly with the three major credit bureaus. Under the Fair Credit Reporting Act, the credit bureaus have 30 days to fully prove that their information is correct...or else they must delete it! Dealing with the credit bureaus is very difficult, but we have a proven system that works!
Facts
-Normally takes 4-6 months for maximum effectiveness.
-70-90% of negative items removed on average.
-Average credit score increase of 60-190 points.
-Money back guarantee.
To find out if credit repair is right for you, please contact me by filling out this
form
. Don't delay, better credit is right around the corner!
Amanda Lehman
Legal Assistant
Cell: 616-835-2693